Boys Will be Gurls – A Bag Ladies Fundaiser
August 28, 2020 @ 7:00 pm

-

11:00 pm

$30.00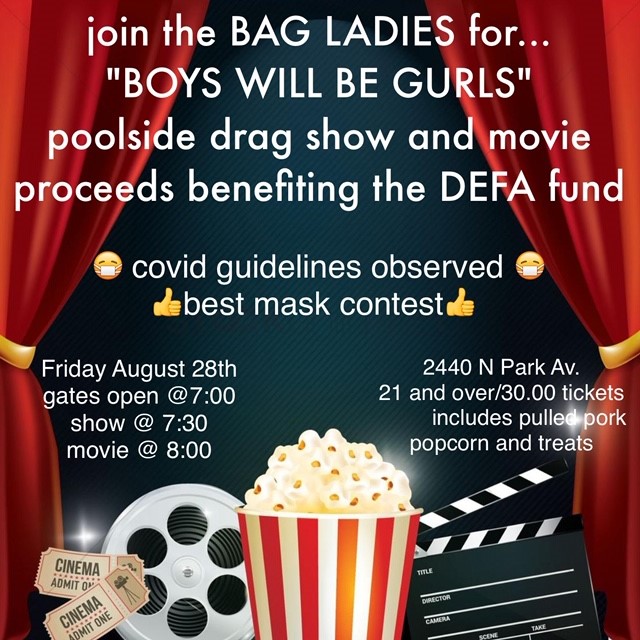 Featuring performances by Hostess and Emcee Holly Luyah (BLQ '10), Cherry Forever (BLQ '93), Halle Pino (BLQ '09), Patricia Yolanda Weave (BLQ '12) and Barbra Pleaze (BLQ '19) with appearances by Tonya Campisi (BLQ 1846) and Sparkle Nightly (BLQ '14).
After the performances, stick around for a special screening of a movie that has been hailed as "riveting," "a movie," and "drag at its most mediocre."
Tickets available through Eventbrite, link below.
About the DEFA Fund:
Through a partnership with the late local entrepreneur, Phil Denton, The Health Foundation of Greater Indianapolis created the Gregory R. Powers Direct Emergency Financial Assistance (DEFA) program in the late 1990s to provide needed assistance to Hoosiers living with HIV/AIDS in emergency situations.  DEFA funds are distributed by The Health Foundation to grantees that provide hands-on care management and assistance including The Damien Center, Eskenazi Hospital (formerly Wishard Hospital) and the LifeCare program at IU Health Methodist.
These agencies then administer DEFA funds to meet the individual emergency needs of HIV/AIDS infected persons.  In 2018, DEFA funds provided assistance to 4,853 patients. The top five emergency needs (representing 74.27%) were:
Rent or Mortgage assistance (17.95 percent)
Medication assistance (17.10 percent)
Transportation assistance (15.32 percent)
Nutrition assistance (13.05 percent)
Utility assistance (10.85 percent)